Archive for the 'Script Smart' Category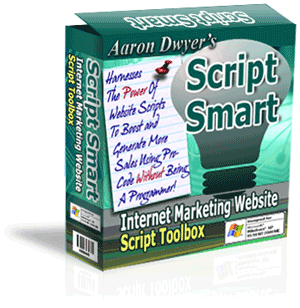 It's been a long time coming in fact 13 months between releases for Script Smart. The internet marketers toolbox that has lots of scripts and helpful applications to boost your sales / conversions from your website.
To this day, I personally still use this software about once a month. Usually for the email encoding script but sometimes the countdown and last chance scripts as well. And the colour wheel.
Some of the scripts that were cutting edge in 2006 have been knocked off and marketed individually over the years. I always chuckle when I see it, but they provided a solution just as I have, so I don't begrudge them at all.
To think I initally created this software back in 2006, and it's now in it's 4th incarnation. I look at the videos of myself that I have on the download page and the affiliate page and I look so young and fresh. 🙂 How times have changed.
This release brings the software up-to-date with the new Adobe AIR released that have happened over the last 18 months.
Since this is a new version Script Smart 4 will install separately. You can uninstall the old Script Smart 3 version at any stage.
You can't obviously upgrade while running Script Smart 3 using the inbuilt upgrader. So simply go to the download page (emailed to you) and install the new version.
If you require your license to be reset you can now action this on your own without needing to contact support.
http://script-smart.com/serial
This release will pave the way for some new scripts I've been working on adding to Script Smart in the future.
So I urge you to upgrade now, and then future minor updates will be seemless once again from within the application.
Aaron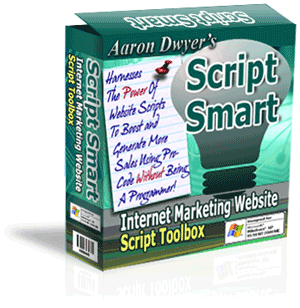 At loooonnnngggg last my unblockable exit hover popup script that is inside Script Smart is W3C compliant.
This means it will work in websites that have this sort of code at the top of every page…
<!DOCTYPE html PUBLIC "-//W3C//DTD XHTML 1.0 Transitional//EN" "http://www.w3.org/TR/xhtml1/DTD/xhtml1-transitional.dtd">
<html xmlns="http://www.w3.org/1999/xhtml">
Most new websites built over the last 2 years or so, use the W3C to allow their websites to show the same way on all browsers. It makes sense to use it.
Of course the hover popup still works fine on websites that don't use the W3C to force compliance.
The easiest way to upgrade is to just start Script Smart and it will prompt you to upgrade.
You use the hover popup in the same manner as you did before, it's just the output script that is W3C compliant.
Thank you to all my users that have been waiting patiently for this update to Script Smart. Believe it or not it took 3 freelance web programmers and me, to get this script 100% compliant.
I'm really proud of it, because it's the smallest size (~20KB) unblockable hover popup script with exit hover capabilities that is W3C compliant (will run on all browsers and site designs) available on the internet.
There are others on the market of course, but the nearest rival is ~120KB in size as the finished script.
Of course with higher speed internet these days around the world, the overal size of a webpage and how quickly it loads is becoming a mute point.
Aaron
Script Smart has just been updated to version 3.03
This is mostly a bug fix, but there is a major difference under the hood with this version.
Adobe AIR uses a security feature to make sure that you are installing the software that you think you are and not software that's been compromised by another party.
So in order to get this added security software developers need to digitally sign their software to build trust and confidence with their end users.
Initially I didn't bother with this, and installation screens used to look like this…
From a professional business point of view, that just plain screamed I'm a cheap and dodgey developer.
So since Script Smart 3 now uses Adobe AIR, digitally code signing an application is easy. Not cheap, but easy.
I am producing all my software in future in Adobe AIR (so far 3 products) and as such decided getting a secure digital identity for my parent company Web Smart Central as a very solid investment.
So the installation screen now looks like this…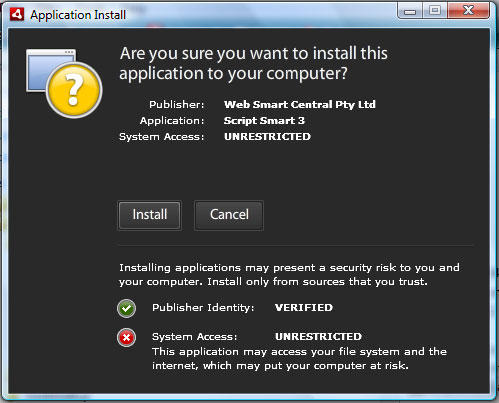 What does all this mean for you the end user. To new users it's just normal business, to existing users, well that's where it get's tricky.
The new application that is signed as coming from Web Smart Central is treated a new software install from the licensing database perspective and as such Script Smart will ask you to enter your email address that you signed up with.
I've tried to avoid this, but alas the licensing database is now in such a mess that most of the existing users will need their serial numbers reset before they will be allowed to use Script Smart after updating.
There's no point in putting this off, since future updates (which are coming soon) will trigger this anyway.
If you have yet to upgrade to v3.03 of Script Smart, then follow these steps…
Step 1. Go to the Script Smart download page (put in a support ticket if you can't remember the download page location)
Step 2. Click on the Install Now badge or do a manual installation
Step 3. Enter your email address that you signed up with and you should be right to go.
NOTE: Do not try to run Script Smart first and let it do the upgrade, this will lock you out and you'll need to contact me to get your serial number fixed.
I whole heartedly appologise for this, but I have to make the software better for you in the future and this needs to be done.
If you get locked out of Script Smart during this process, please submit a support ticket, or email me and I'll promptly fix your serial number.
Talk soon
Aaron